Okay , so I've had a couple people ask me some things about Marvel since Infinity War's release date was close enough to talk about, like:
"Does it matter if I haven't seen all the other Marvel films?" or "Do I have to see them in order?"
So I decided to write a summary of the Marvel Cinematic Universe (MCU) so far. They're pretty general but I'll add a spoiler alert because post-credit scenes will be included.
PHASE 1
Iron Man (2008)

Summary: Genius, billionaire, playboy, philanthropist Tony Stark (Robert Downey Jr) is captured by terrorists and in order to escape, build a suit of armour. When he returns home, he utilises the suit and becomes Iron Man, fighting to protect the world from evil.
Post-credits scene: Nick Fury (Samuel L. Jackson) makes his first appearance and introduces the Avengers Initiative.
Grace's thoughts: The OG Marvel film that I will always hold close to my heart and have watched countless times but is sadly the only really good Iron Man film.. 12 yearold me had the biggest crush on RDJ and also didn't know about the whole post-credit thing so it was years before I realised that it was a staple in the MCU.
The Incredible Hulk (2008)
Summary: Exposure to gamma radiation enables Dr Bruce Banner (Edward Norton) to periodically turn into the Hulk – a massive, green humanoid. Banner attempts to cure himself but is forced to go on the run from General Thaddeus Ross who wants to weaponise the Hulk.
Post-credits scene: Tony Stark makes an appearance, mentioning the Avengers.
Grace's thoughts: I don't even consider this part of the MCU.
Iron Man 2 (2010)
Summary: Set 6 months after the first film, Tony Stark has since revealed himself to be Iron Man and the US government demands that he hands over his Iron Man technology. Ivan Vanko, a rogue Russian scientist, develops his own tech, using it to create weaponry to target Starl. Black Widow (Scarlett Johansson) and a newly casted War Machine (Don Cheadle) make they first appearances.
Post-credits scene: Agent Phil Coulson reports the discovery of a large hammer.
Grace's thoughts: The most forgettable film in the MCU; I always struggle to recall my memories of it.
Thor (2011)
Summary: Thor (Chris Hemsworth), the crown prince of Asgard, is banished to Earth and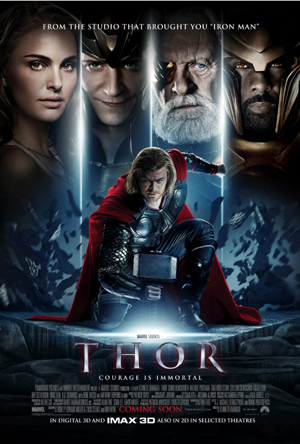 stripped of his powers by his father, Odin, after restarting a long-dead war. Meanwhile, his brother Loki (Tom Hiddleston), attempts to claim the throne.
Post-credits scene: The Tesseract is introduced.
Grace's thoughts: An okay film, don't have much of an opinion on it. Makes for an okay viewing but leans on the boring side.
Captain America: The First Avenger (2011)
Summary: Mostly set during World War 2, Steve Rogers (Chris Evans), a sickly man from New York, is transformed into a super-soldier, thus adopting the alias, Captain America. He must then stop the Red Skull from harnessing the power of the Tesseract to take over the world.
Post-credits scene: Fury meets with Rogers to talk about saving the world.
Grace's thoughts: A fine entry to the Captain America trilogy, not the best but not a bad film. Kept me entertained and the big reveal left me shook.
The Avengers (2012)
Summary: Nick Fury recruits Tony Stark, Steve Rogers, Thor, Hulk, Natasha
Romanoff/Black Widow and Clint Barton/Hawkeye to come together and save the world from Loki's plan to take control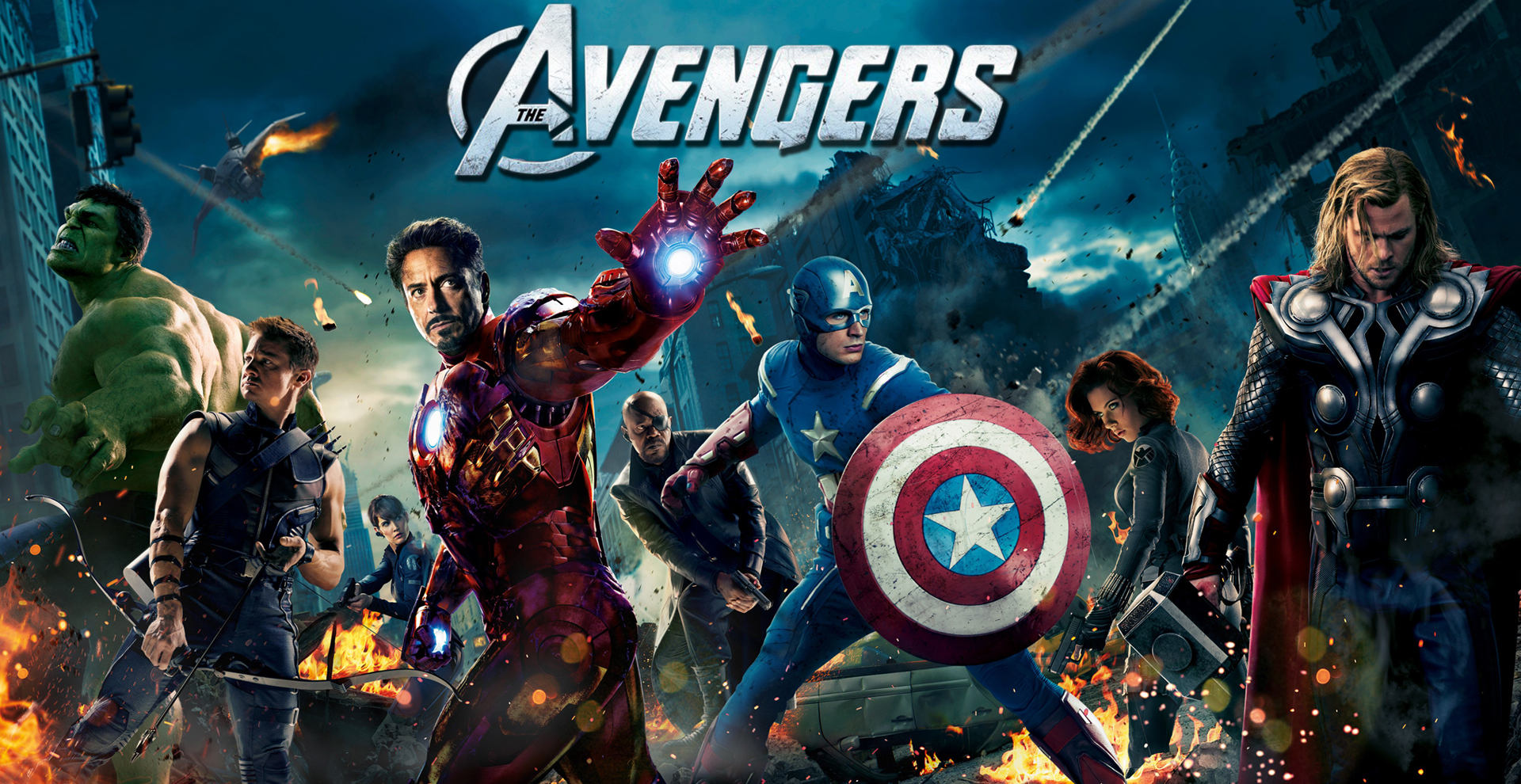 Post-credits scene: First there is a mid credit scene with Thanos stating that he has underestimated Earth. The post credit scene has the Avengers eating shawarma in silence.
Grace's thoughts: Wow, revolutionary. Had never seen anything like it and it still holds up as a fantastic film.
PHASE 2
Iron Man 3 (2013)
Summary: Stark is suffering from PTSD caused by the events of the previous film whilst having to deal with a brutal terrorist, the Mandarin.
Post-credits scene: Tony has been telling the film's story to Bruce Banner who has fallen asleep.
Grace's thoughts: This was the film that let me know that the powers that be at Marvel were a bunch of jokers. An unserious film.
Thor: The Dark World (2013)
Summary: Thor and Loki band together to protect the Nine Realms from being destroyed by the Dark Elves.
Post-credits scene: In the mid credit scene, the Aether is given to the Collector (Benicio del Toro) as they do not want to keep two Infinity Stones close together, as they already have the Tesseract. In the post-credits scene, Thor and Jane reunite whilst a monster runs amok.
Grace's thoughts: Again, nothing special, quite boring really. I only watched the first two films because the third looked alright.
Captain America: The Winter Soldier (2014)
Summary: Captain America teams up with Black Widow and Sam Wilson/Falcon (Anthony Mackie) to take down a new enemy – the mysterious Winter Soldier (Sebastian
Stan).
Post-credits scene: First in the mid-credits, Scarlett Witch and Quicksilver are teased and then in the post-credits, the Winter Soldier visits the Bucky memorial.
Grace's thoughts: This has long been my favourite Marvel film, can't praise it enough. Sen-say-shun-nall.
Guardians of the Galaxy (2014)
Summary: A group of intergalactic criminals – lead by Peter Quill (Chris Pratt) – reluctantly come together after stealing a powerful artefact.
Post-credits scene: The Collector sits with two of his living exhibitions.
Grace's thoughts: I really enjoyed this, a surprise hit. Visually stunning, funny and really well acted and written. A little bit unserious but not enough that it was distracting.
Avengers: Age of Ultron (2015)
Summary: The Avengers come together again, this time to defeat Ultron, an artificial intelligence set on causing human extinction.
Post-credits scene: A mid-credits scene where Thanos vows to get the Infinity Stones himself.
Grace's thoughts: Couldn't stand this the first time around, but upon second viewing I really enjoyed it. Plus, it set up Infinity War so I can never be mad at that.
Ant-Man (2015)
Summary: Scott Lang (Paul Rudd), a petty criminal, is approached by Hank Pym, to pull off a heist, using a suit that can increase and decrease in size to that of, well, an ant.
Post-credits scene: Pym shows his daughter Diane, a Wasp suit. In the post-credits, Steve Rogers and Sam Wilson have Bucky Barnes in their custody.
Grace's thoughts: A decent film and Paul Rudd is his usable likeable self. Wish Edgar Wright had directed though.
PHASE 3
Captain America: Civil War (2016)
Summary: Disagreement over the Accords set by the UN cause the Avengers to split into two sides – one led by Rogers, the other by Stark.
Post-credits scene: In the mid-credits, Barnes is offered recovery in Wakanda by T'Challa (Chadwick Boseman) and the post-credits sees Peter Parker (Tom Holland) sees a gadget made for him by Stark.
Grace's thoughts: Another legendary Captain America film, too sick and rounds off my top 3 Marvel films.
Doctor Strange (2016)
Summary: Top surgeon Doctor Steven Strange (Benedict Cumberbatch) begins learning the mystic arts after a car crash.
Post-credits scene: Mordo removes from Pangborn, the mystical energy that allows him to walk.
Grace's thoughts: A decent film, visually amazing with a very interesting and unique climax.
Guardians of the Galaxy Vol. 2 (2017)
Summary: The Guardians help Peter uncover the truth about his mysterious parentage.
Post-credits scene: Multiple scenes – Kraglin uses Yondu's arrow, Ravager leader Stakar Ogord gathers his old team together, Ayesha creates a Sovereign named Adam, Groot is a teenager and an informer (Stan Lee) talks with the Watchers.
Grace's thoughts: Can't fault the film, absolutely loved it. Laughed out loud so many times, emphasised with Quill and generally had feels.
Spider-Man: Homecoming (2017)
Summary: Peter Parker attempts to balance school and being a friendly neighbourhood Spider-Man whilst facing the Vulture.
Post-credits scene: In prison, Toomes denies knowing Spider-Man's true identity. Captain America makes some cheeky announcements.
Grace's thoughts: An entertaining, fun film that gets extra points because it didn't rehash everything the other versions had already told us. I was also genuinely left shook at a particular reveal.
Thor: Ragnarok (2017)
Summary: Thor attempts to stop the impending Ragnorok whilst battling his evil sister, Hela (Cate Blanchett), the goddess of Hel.
Post-credits scene: Thor's ship is met by Thanos and in the post-credits, the Grandmaster encounters some rebels.
Grace's thoughts: Unserious but entertaining. Visually stunning with some great scenes. The best Thor film, which actually isn't a feat that's hard to achieve.
Black Panther (2018)
Summary: T'Challa returns home to Wakanda to find that his title has been challenged.
Post-credits scene: Shuri speaks with Bucky who has been recovering.
Grace's thoughts: Never been more gutted to not have thoroughly enjoyed a film, sigh. It was fine but didn't blow my mind or anything. There were engaging action scenes, great acting and stunning visuals but something was very lacking. Hoping that it was the okay entry into a series of amazing films.
Avengers Infinity War (2018)
Summary: All the characters we have previously met – the Avengers, Guardians and more – try to stop Thanos from collecting all of the Infinity Stones.
Post-credits scenes: There is one at the very end that I will not spoil for you.
Grace's thoughts: This film broke me. Review coming soon.
~
If you want to watch the films in chronological order, here's a list:
Captain America: The First Avenger
Iron Man
Iron Man 2
The Incredible Hulk
Thor
The Avengers
Iron Man 3
Thor: The Dark World
Guardians of the Galaxy
Guardians of the Galaxy Vol 2
Captain America: The Winter Soldier
Avengers: Age of Ultron
Ant-Man
Captain America: Civil War
Doctor Strange
Spider-Man: Homecoming
Thor: Ragnarok
Black Panther
Avengers: Infinity War